As a Banker, Kacher Helps Others, Community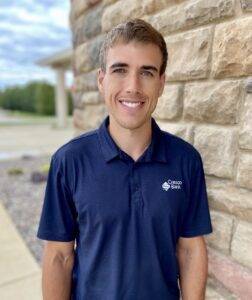 After earning a degree in agricultural business from Iowa State University in 2016, Brendon Kacher started looking for a career. In banking, he found a profession that combined many of his passions, including helping others. "The banking industry, specifically community banking, shows the value and importance of helping and giving," he said. "Whether it's helping people with their finances, or volunteering and donating to places in need, these are all great traits that can be used in everyday life."
Now a vice president agricultural and business banker at Cresco Bank & Trust, Kacher continues to work toward helping his customers with their financial needs and giving back to his community.
What drove you to choose a career in banking?
When I started looking for jobs in college, I was attracted to the diversification banking had to offer. Banking combined many of my interests — agriculture, business, finance, economics and helping people — into one profession. I also liked the fact I could utilize my degree while living in my location of choice. I'm grateful to reside and raise my family in small-town Iowa, close to other family and friends.
What is one lesson working in the banking industry has taught you that you can apply to your everyday life?
The banking industry, specifically community banking, shows the value and importance of helping and giving. Whether it's helping people with their finances, or volunteering and donating to places in need, these are all great traits that can be used in everyday life.
What is your best elevator pitch for why banking is a great career?
Banking is a great career because of the opportunities it gives to positively impact other people. Whether it's helping others achieve their financial dreams or developing relationships with customers, co-workers and community members, it can all be very gratifying.
How does getting involved with the Iowa Bankers Association help you and your bank?
The Iowa Bankers Association has provided tremendous training opportunities for myself, along with many of my co-workers. The training opportunities they provide enable us to better serve our communities and customers. It also creates valuable networking opportunities with other bankers across the state of Iowa.
When you're not at work, what do you like to do most?
I enjoy spending time with my family, being outdoors or watching Iowa State football and basketball.
What is a quote or guiding principle you live by?
"There is no elevator to success. You have to take the stairs."
— Georges Niang, former Iowa State University basketball player