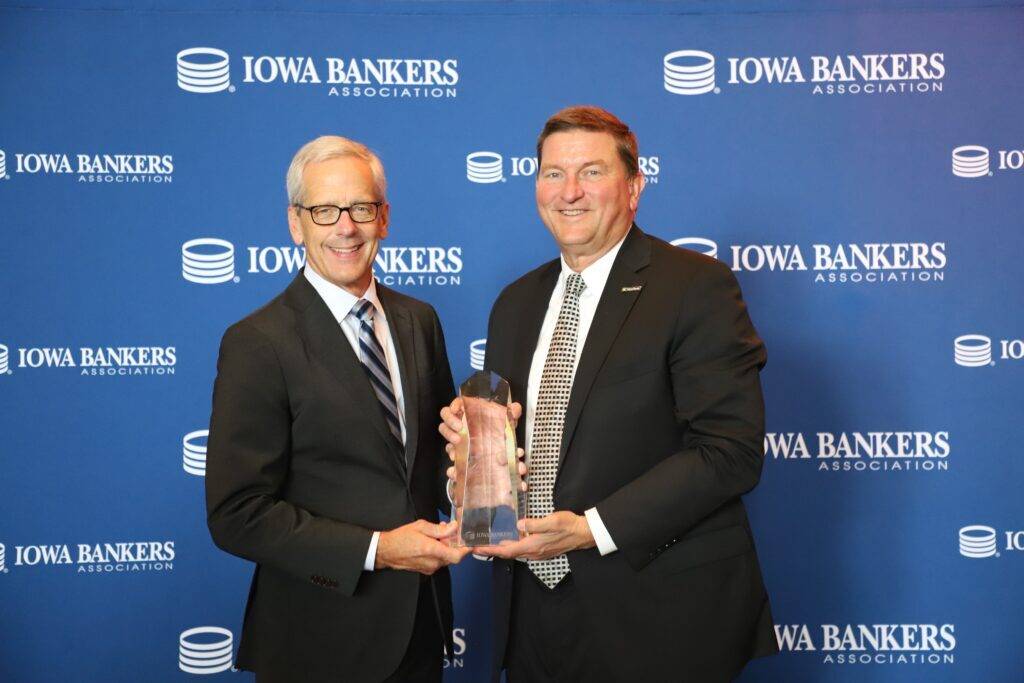 JOHNSTON, Iowa (Sept. 19, 2023) — The Iowa Bankers Association presented West Bank Chairman and CEO Dave Nelson with the 2023 James A. Leach Leadership Award on Tuesday during the Iowa Bankers Association (IBA) Annual Convention at Veterans Memorial Auditorium.
Nelson, who has worked in the banking industry for 39 years, has been CEO of West Des Moines-based West Bank for 13 years. Prior to joining West Bank in 2010, he gained more than 25 years of banking experience in commercial banking, credit administration and relationship building. In that time, Nelson has shown an unwavering commitment to the communities he's served.
"In addition to leading one of the top-performing banks in the Midwest, Dave Nelson has consistently given back to his industry and community," said John Sorensen, president and CEO of the Iowa Bankers Association. "As a community bank advocate, he has a unique ability to communicate the importance of a healthy banking sector to policymakers and thought leaders in our state."
The IBA created the Leach Award in Congressman Leach's name in 2000, following his term as chairman of the U.S. House Banking Committee. The award recognizes a distinguished Iowa banker who, like Rep. Leach, has made significant, lifelong contributions to how Iowa banks serve Iowa communities.
"Dave Nelson's contributions to community banking are complemented by his abilities as a strong, charismatic, approachable leader who is personally committed to and invested in the success of his team members and the Bank's customers," said Zach Stubbs, vice president of West Bank. "His leadership is best defined by his philosophy that each employee is owed the 'gift of clarity' as to what is expected of them and how their development is critical to and reflected in the organization's success."
Under Nelson's leadership for the past 13 years, West Bank has repeatedly been recognized as one of the top performing banks in America by national publications and analysts. Nelson has served in several advocacy and leadership roles with both the Iowa Bankers Association and the American Bankers Association, which have helped him make significant contributions to the success of West Bank and to community banking in the state of Iowa. He currently is a member of the ABA's board of directors and served as chairman of the Iowa Bankers Association in 2016-17. He has also served as the Iowa representative for the ABA Grassroots Committee, the ABA Government Relations Council and the ABA Community Bankers Council.
Nelson earned his bachelor's degree from Drake University in 1983 and received an MBA from Drake in 1984 and has stayed committed to his alma mater ever since. He has served as chair of the Drake College of Business and on the university's National Advisory Council.
During his time as the southeast Minnesota president at Wells Fargo in Rochester, Minnesota, he was awarded the Mayor's Medal of Honor for Community Leadership as the result of his significant board service and community involvement. In Des Moines, he has served on the Greater Des Moines Committee and as a member of ChildServe's board of directors.
Having its roots dating back to 1893 when it was founded in Valley Junction, West Bank holds the honor of being the longest-standing business in West Des Moines. Nelson has consistently showcased his dedication to the West Des Moines community, which is exemplified through his leadership in spearheading an initiative to identify a new location for West Bank's headquarters in an area of West Des Moines in need of redevelopment and revitalization. The new building is expected to open for business in the spring of 2024.
Past Leach Award Recipients
Past recipients of the IBA's James A. Leach Leadership Award include Neal and Dwight Conover, Northwest Financial Corp. in Spencer; Leslie Miller, Iowa State Savings Bank in Knoxville; Bob Steen, Bridge Community Bank in Mount Vernon; James Schipper, American State Bank in Osceola; Brad Davis of Hampton State Bank; Nancy Dunkel, Fidelity Bank & Trust in Dubuque; Robert Rigler, Security State Bank in New Hampton; Thomas Huston of Columbus Junction State Bank; Thomas Gronstal of Carroll County State Bank in Carroll; Mick Guttau of TS Bank in Treynor; Alan Tubbs of Maquoketa State Bank; Oliver Hansen of Liberty Trust & Savings Bank in Durant; Edward Tubbs of Maquoketa State Bank; Arnie Schultz, GNB Bank in Grundy Center; O. Jay Tomson, First Citizens National Bank in Mason City; Don Carmody, Henry County Bank in Mount Pleasant; Jeff Plagge, Northwest Financial Corp. in Arnolds Park; Paul Johnson, Iowa State Bank in Algona; Dan Krieger of Ames National Corp.; Holmes Foster of Banks of Iowa, Inc.; Ron Hansen, Liberty Trust & Savings Bank in Durant; and Charlie Funk of MidWestOne Bank in Iowa City.
PHOTO: Dave Nelson, chairman and CEO of West Bank in West Des Moines, pictured with IBA President and CEO John Sorensen, was presented with the 2023 James A. Leach Leadership Award, at the IBA Annual Convention on Tuesday.